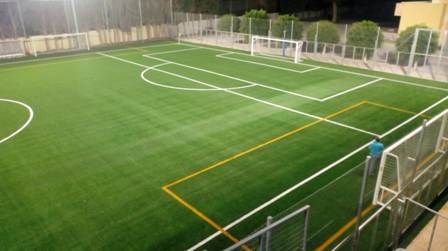 14 Sep

MONTEAGUDO SCHOOL FOOTBALL PITCH IN MURCIA
REFURBISHMENT OF MONTEAGUDO SCHOOL FOOTBALL PITCH IN MURCIA.
The Fomento Monteagudo school in Murcia capital has amongst its many facilities football grounds. The school board made the decision to refurbish the football field and renovate its sports facilities and what better way to do this than with artificial grass which meets federal standards.
It is for this reason that Monteagudo school decided to hire our company ESCLAPES E HIJOS S.L. to refurbish the field, taking advantage of the summer holidays. The execution of the job.
The job is finished and satisfies all requirements.
In short, the job involves the installation of artificial grass, lighting and irrigation, as well as fencing the enclosure and sports equipment as per the instructions of the owner.
The Monteagudo school football field was initially a playground. The refurbishment price includes preparing the ground for the installation of artificial grass, the actual installation of the artificial grass, as well as installing the relevant facilities such as lighting and irrigation.
The work began by disassembling the existing fencing around the field, which was in poor condition and had it been kept would certainly have been in need of repair and upgrading.
The new fence which would replace the old one is higher and better.
The groundworks continued, drilling into the surface of the ground, preparing the new surface for asphalt layers that would act as a base for the artificial grass.
At the same time, trenches are dug and underground piping for the field's irrigation and lighting networks are installed.
The job begins
Note how the irrigation network is designed for the reuse of the water. How? By collecting the water that is first used for irrigation, storing it in a reservoir tank and from there the irrigation system is fed again, thus creating a cycle.
Also the lighting is something to be noted. With 12 m high lighting towers and special projectors, the lighting meets the requirements of the Royal Spanish Football Federation so that official competition matches can be played.
All of these elements are important, but by far the most important is the artificial grass itself. The regulated lawn consists of two layers, an elastic base and the grass itself.
And finally the sports equipment, goals, banners, benches and nets.
Execution of the job
Job finished and complete
Esclapés e Hijos S.L. has smashed it once again. Our versatility in the world of construction, from building refurbishments to the construction of private and industrial buildings, means nothing can stop us. Learn about the huge selection we have to offer in our extensive catalogue.