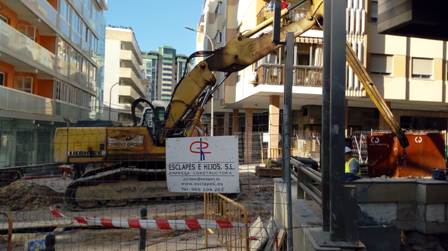 22 Feb

HOTEL SOL Y SOMBRA – UNDERGROUND PASSAGE – BENIDORM
CONSTRUCTION OF AN UNDERGROUND PASSAGEWAY IN HOTEL SOL Y SOMBRA IN BENIDORM.
The proprietors of Hotel Sol y Sombra and Hotel Cuco had the idea of merging them by means of an underground pedestrian crossing passing under Florida Street. As a result we were given the task of constructing a tunnel that runs between the two hotels.
Despite being a seemingly complicated undertaking, it was in fact no more complex than any other job; it came down to simply creating a pedestrian corridor under the street.
Construction involved the use of reinforced concrete walls, a slab floor and an interior finish which would ensure its suitability for pedestrian traffic.
In order to guarantee full accessibility within the loop, two elevators were fitted to connect the ground floor to the lower level.
The Job
The project began with bulk earth-moving, during which the ground was excavated to the desired level in preparation for building.
Erection of reinforced concrete walls with the use of specialised machinery for both excavation and wall erection.
The floor was laid with alveolar plate and a reinforced concrete compression layer, which will enable it to withstand the weight of heavy vehicles.
Work continues
The quality interior finish of the passageway between the two hotels is worlds apart from an everyday basement, which can often be wet, poorly ventilated and uncomfortable.
Note that in order to complete the job public services such as lighting, telecommunications, water supply and sanitation needed to be diverted.
Once the work in the underground passage was finished, the urbanization on the street above is finished to an even higher standard than before the work began.
Esclapés e Hijos S.L. is a leading construction company in the Province of Alicante with vast experience in various sectors of construction, including industrial, public and private works. For the last 25 years we have been relied upon to carry out work for Communities of Owners and individual clients in civil works and infrastructure, in building, refurbishing and reform of housing as well as commercial and business premises, all of which demonstrate our ability to successfully complete jobs with which we have been entrusted.
If you are interested in seeing more of our work, click here to access the index of our industrial jobs